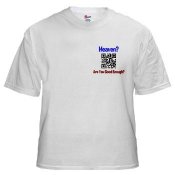 Free Graphics For Making Your Own Evangelism Materials
The graphics incorporate a QR code which will bring smart phone users to the www.911Christ.mobi web site. There the gospel will be shared using the law and grace. This web site automatically detects your location and language and can display custom messages.
You may use our graphics to create your own materials with the 911Christ.mobi QR code. Use this link for more information, and to select and download the evangelism grahpics you'd like to use.
---
The resources below are non-copyrighted. They may be freely duplicated and used in your ministry.
---
Free resources for using the MOST DVD For Evangelism:
MOST is a DVD that is excellent for opening the door to talking about Jesus and God's sacrifice for our salvation.
The story: A father takes his son with him to his job as a bridge tender. When the son falls into the drawbridge's gears the father must choose between saving his son or saving the oncoming train. We sell the MOST DVD. Use this link to go to a page where you can purchase a copy of Most the movie.
English Language Resources to help you use the MOST Movie for evangelism:
The MOST writer's notes provide a guide to the Biblical message and allagories that asre seen throughout the movie.
Most Writer's Notes (English PDF)

Most Leader's Guide (English PDF)
Most Promotional Guide (English PDF)
MOST Gospel Tract
This greeting card size tract uses the MOST movie as a stepping stone to share the gospel. Using elements of the video it takes people through sin, their need for a savior, and that Jesus is their savior.
Most the Movie Gospel Tract (English PDF)
MOST Russian Language Resources
The following are PhotoShop files:
Most Gospel Tract (Russian Part 1)
Most Gospel Tract (Russian Part 2)
The following is an MS Word file:
Most Writer's Notes (Russian)
---
Online MP3 PodCasts
SW Hills Baptist Church
Little People, Big God - Do you feel you have nothing to offer God? Have you thought that there is no way God could use you? Maybe you don't know enough or you have no ministry skills or you don't know what to say. This inspirational message from Jack Loughridge will help you see that God can use you, because it's not about you... it's all about God.
Little People, Big God - MP3 Podcast (19 mb)
What God Says About Homosexuality is a loving 35 minute message by Pastor Rick Elzinga looking at the what the Bible says about homosexuality, including the historical context during the first century. One of the best sermons on homosexuality I've heard.
What God Says About Homosexuality - MP3 Podcast

Biblical Creation MP3 Messages
Scientists and Their Beliefs - by Dr. Donald Chittick. Learn the answers to these questions: What are the belief options for origins? Why is there so much disagreement? Which side, creationism or evolutionism, has more evidence? Is the idea of creation against science?
Scientists and Their Beliefs - MP3 Podcast

Men & Dinosaurs - In this message by Steve Hudgik you'll travel around the world to study thousand-year-old art learning what it reveals about people, dinosaurs and the Bible.
Men And Dinosaurs - MP3 Podcast (16 mb)

Evangelism MP3 Messages
Agents For Christ
Evangelism Minutes - created for use on radio, these one minute messages provide practical advice for sharing the gospel. Available in contemporary and rock version.
Paris Reidhead
Ten Shekels and a Shirt - by Paris Reidhead. This could be the most eye-opening message about evangelism you've heard. The challenge and blessings of this message from Judges 17 illustrates the ever-present danger of "evangelical" humanism. The longer you listen, the better it gets.
Ten Shekels and a Shirt - MP3 Podcast

---

Links to other web sites offering
free evangelism / ministry tools:
Way of the Master (click on "Free Tools" menu)
Pocket Testament League - provides free copies of the Gospel of John
Living Water Project - provides free copies of the Gospel of John
---