Free MTA Ministry Resources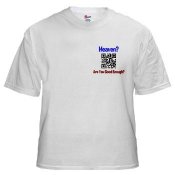 We are happy to provide the following resources for your use. Everything is copyrighted by Move To Assurance. We grant permission for these to be used for promoting the gospel of Jesus Christ. (See terms below.)
QR Code Graphics: the QR code will take smart phone users to the www.911Christ.mobi web site, which will share the gospel with them.
Clothing and other items with these graphics may be purchased in our Cafe Press Store. Use this link:
MTA Evangelism Clothing
If you've created a design you'd like to share with others, please contact us.
The following QR code is used for MTA events. Currently it will bring people to pages that share the gospel and that are related to our current event. In the future it will work with multiple geographic locations.